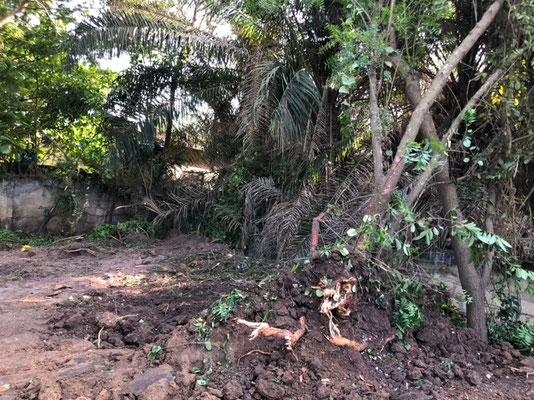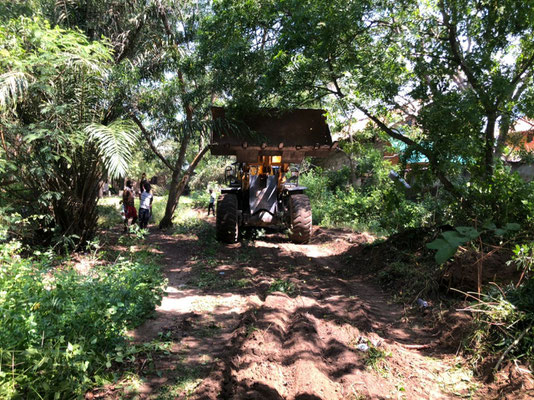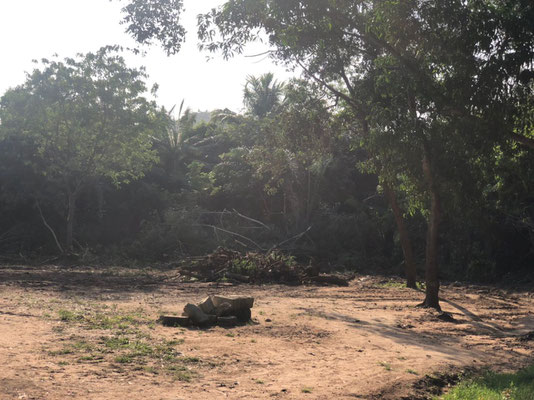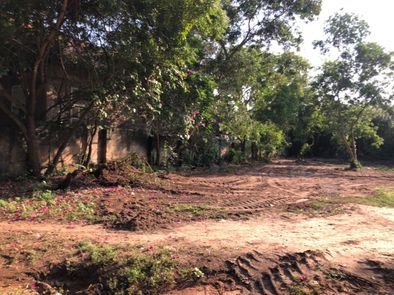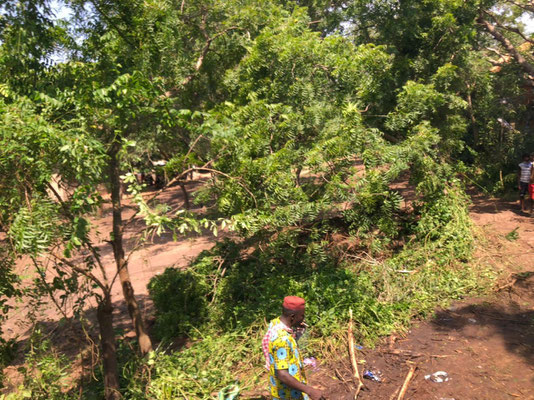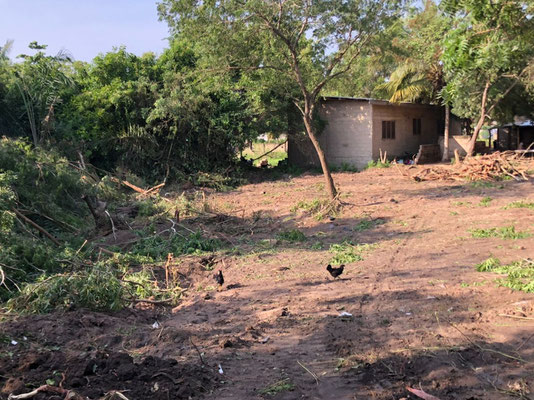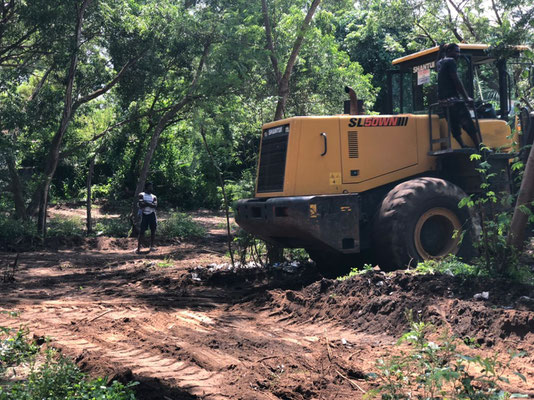 "When I arrived late in the evening in Accra I was picked up from the airport by (Chamil) a friendly man from Sri Lanka and we drove together to Kokrobite, on the outskirts of Accra. During the drive in the darkness I got a first impression of Accra and the wild hustle and bustle of the many people selling a wide variety of goods.
The next morning I explored the Institute and Kokrobite and got to know most of the people I would mainly deal with during the next two months.
Due to the Covid pandemic, I was the first and only guest at the Kokrobite Institute in a long time and ended up going mostly alone to get to know the place and the people. My first adventures consisted of taking public transportation, the so-called trotros, to visit the different markets and get into the hustle and bustle. After a few days, I had also organized one of the motorcycles common in Ghana to explore the area around Kokrobite and just be mobile.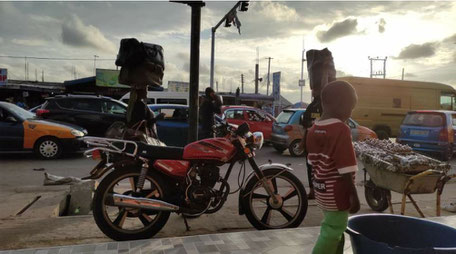 My workdays in Kokrobite also began shortly after arrival. Janet, the manager at that time, discussed with me where the project currently stands, what the short-term tasks and challenges are and was always very open to ideas and suggestions. After getting a first impression of the school with the children and teachers, we noted the obvious and less obvious points for improvement and considered the appropriate approaches.
The majority of the children were still very reserved and shy during my first visit to the school, but this changed so much over the weeks that I was surrounded at every visit and was hardly let go by some of the children. The kids were all very adorable and became attached pretty quickly and were always happy to be approached.
In order to incorporate my ideas a bit into the lessons and to offer the children a bit of variety, I came up with some small activities with Janet for one day each week. The tasks were aimed at teaching the children different things like teamwork, ambition, communication etc. in a playful way.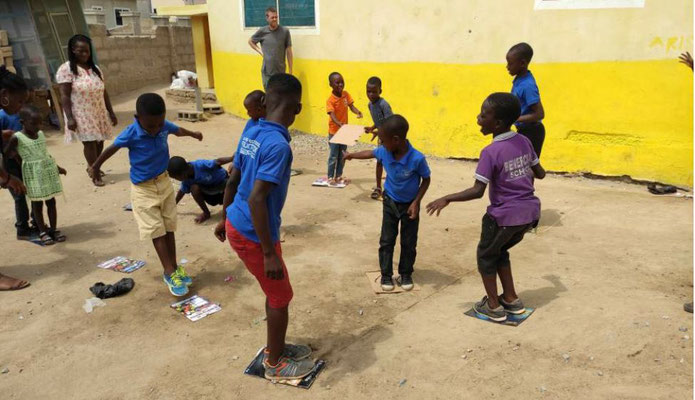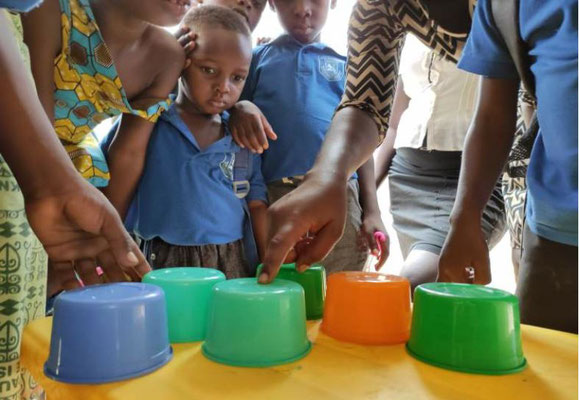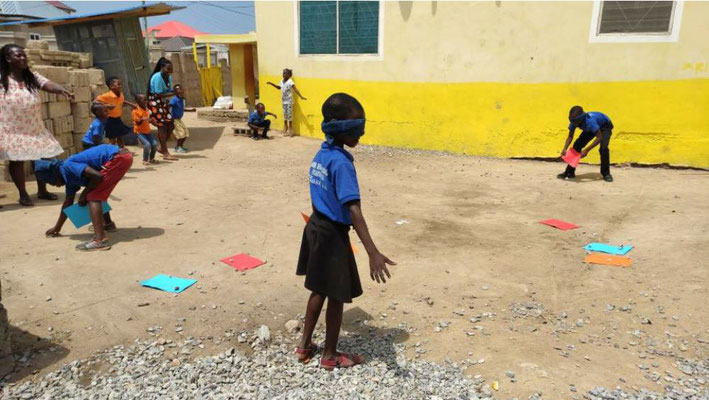 In addition, Janet had the idea to organize a culture day at the school to teach the children practically about their country and its culture. The result was a festive day where the children danced, played and sang in traditional costumes. Many of the parents also came to visit and via Instagram even some viewers from Germany followed the event live.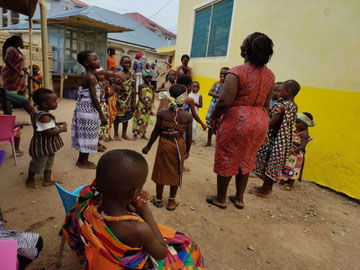 As another special event, Janet and I thought of going on a school trip to give the children a few impressions outside their village. Through privately collected donations, we were able to take the children who were old enough for such a day trip to the botanical garden in Accra at the end of my stay.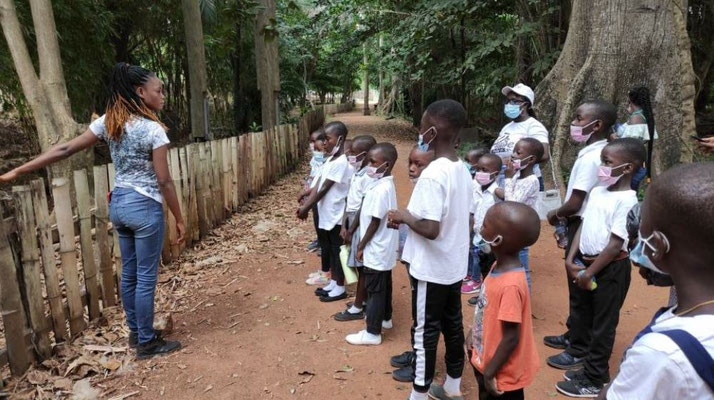 On the last day of my two months I brought a surprise to school for the children, which I had built together with Chamil in his workshop over the last weeks.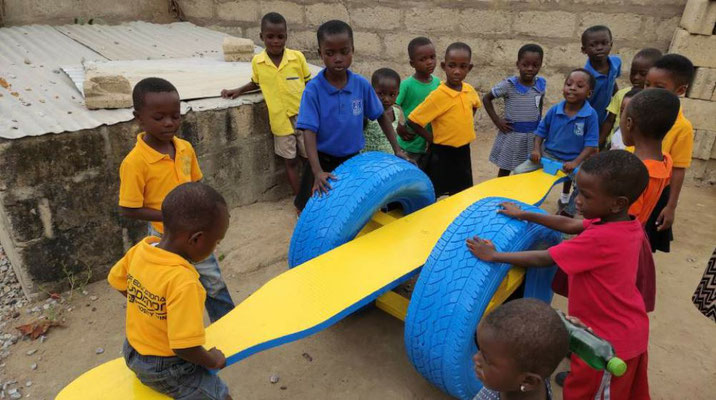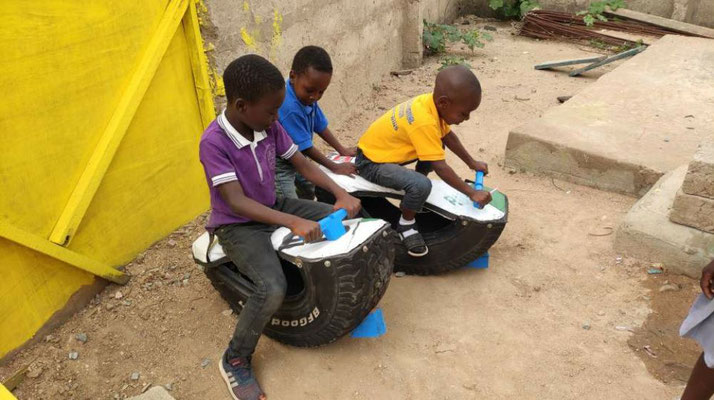 In conclusion, I can only say that I really enjoyed my time and work there and even after only 9 weeks, not only the children but also many other people have grown very close to my heart."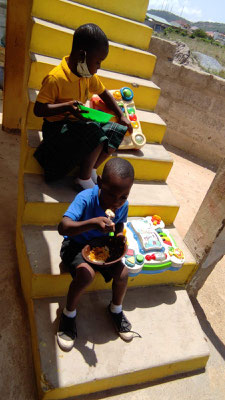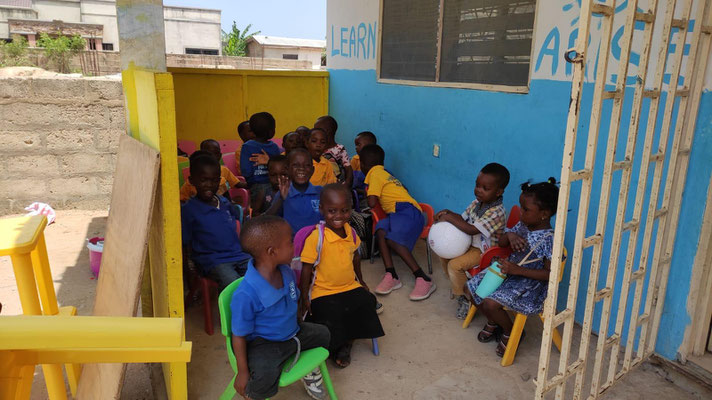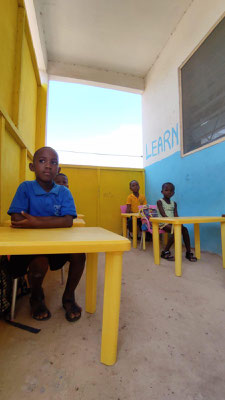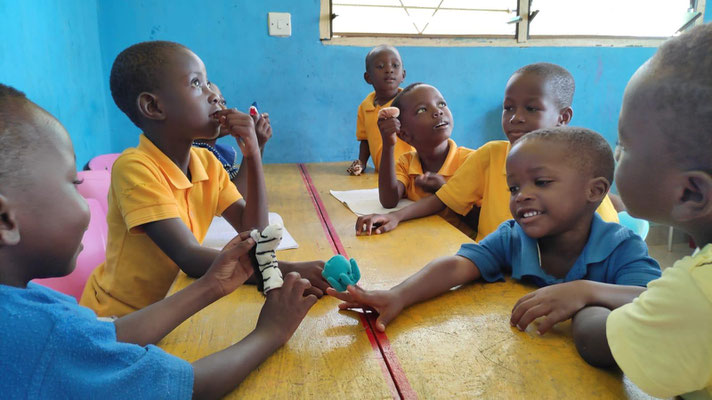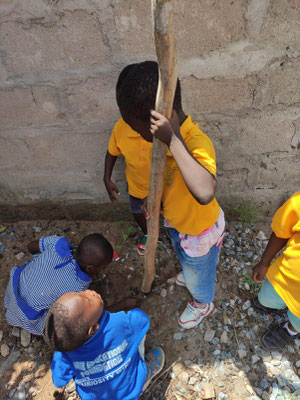 Abigail, our volunteer in Ghana, came up with the idea a few weeks ago to help the families. Due to the current situation, local food prices have increased significantly. The families live on the limits of their existence, especially since the children do not have to have a daily hot meal at school. So Abigail and the teachers have now put together a package of rice and oil for the families who have registered a need. These packages were then taken by Abigail and the teachers to the families " homes to see how the families and especially our students are doing and to have conversations with them.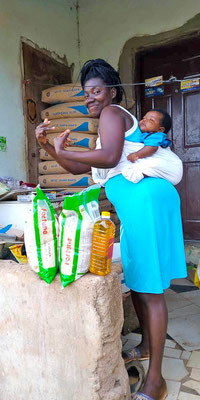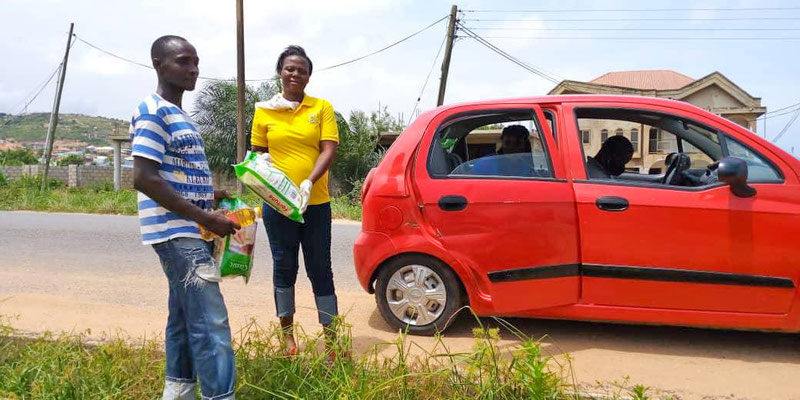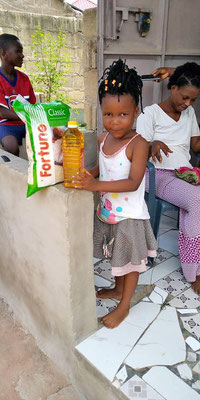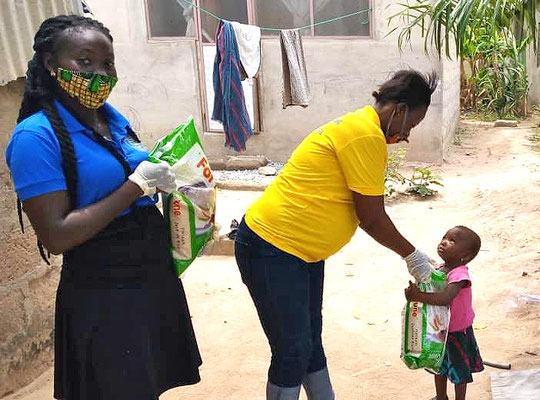 23. March 2020. Unfortunately, the coronavirus does not stop from the African continent and in Ghana, measures are being taken to protect people better from the consequences of this new disease and to limit its further spread. For this reason all schools in Ghana are closed since last Monday and so there is currently no school operation. Of course, the current situation brings with it a lot of uncertainty – but it should not prevent us from looking forward optimistically to the future and so we hope to survive everything well and to be able to reopen the school as soon as possible.
End of August until October 2019
"My internship for Arise e. V. began at the end of August when autumn was already coming in Germany. The idea of spending 2 months in warm Africa with new people, a different culture and in an exciting country was all the more beautiful. I had been planning to get involved in a project in Africa for some time and with Arise e. V. I seemed to have found just the right thing. It is a small but heart-project and the contact that preceded the internship showed me that the association and I shared ideals and values regarding the work there. I arrived in Ghana during the school holidays. So I had the opportunity to familiarize myself with the local conditions for a week before the school day began.
Abigail, a volunteer of the school, was a great help to me, who (not only) looked after me lovingly during my first week. I was housed in the heavenly-like Kokrobite Institute, where I was spoiled morning and evening by the amazingly great Kukua.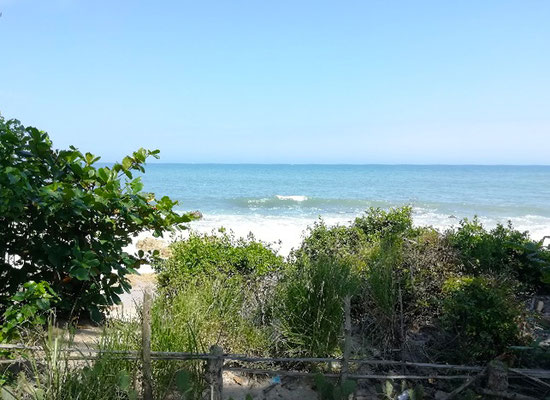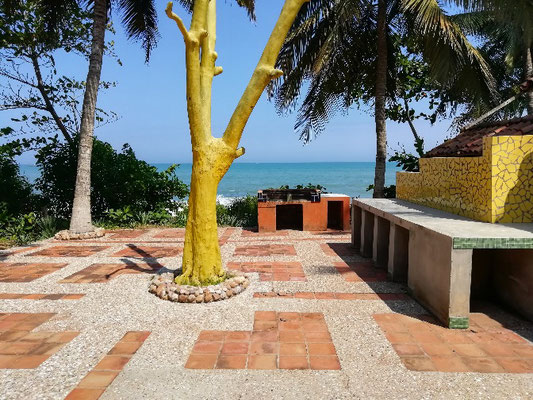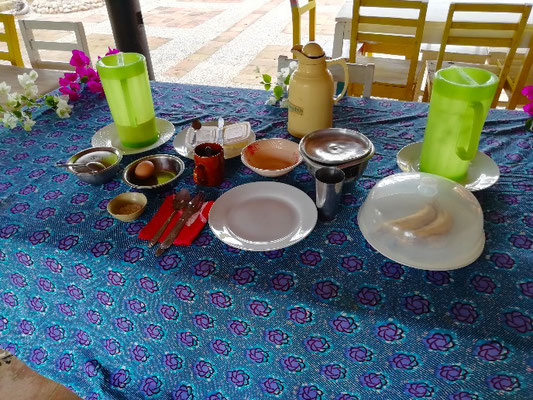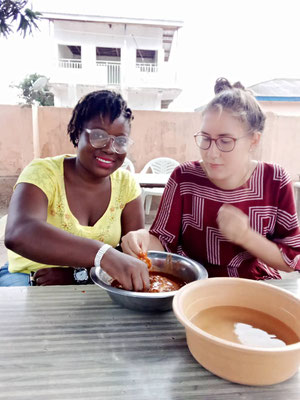 This allowed me to start more confidently and independently in everyday school life and tried to introduce, improve and establish school concepts every day from 9-12 o'clock and meet the needs of the teachers and children. A large part of the work also involved procurement and completion, which I usually (after consultation with my extremely reliable contact partners at Arise e. V. in Germany) followed in the afternoon.

Of course, everyday life also consisted of games and cuddling with the children, which increased the joy and motivation at work even more. Since the project is (still) so small, you can completely realize yourself.

 So even in a short time, you have the feeling that you can play a significant role in shaping and changing something. Also the appreciation of my work as well as the enormous confidence, which was brought to me on the part of the association made the sometimes naturally also strenuous work finally to an enrichment for me.

 Besides the work, I was also given enough time to get to know the country privately. So I was able to travel on three (extended) weekends to the Wli Waterfalls in the Volta Region, to the Mole National Park for an elephant safari and to the historic Cape Coast with nearby Kakum National Park. The preparation was made possible for me especially by the good contact (from Arise e. V. facilitated) to the previous intern Jada.

 After the two months went by faster than I expected anyway, there were many farewell dinners with teachers, Gifty (an incredibly committed and warm woman with her own school project in collaboration with the Institute), but also with some of the Institute's staff (Mark, Kukua, Nii).

So slowly I also realized that my time here was coming to an end. Nevertheless, the valuable encounters, the numerous experiences and of course the (albeit small) influence on at least a few children in Ghana will accompany me for a long time and I am happy and grateful for the support and opportunity to have experienced this.
2. February until 15. June 2019
 "When I arrived in Ghana it was night. Thus, at my first glimpse of my "new home" I could only perceive a luminous, gigantic sea of lights. The plane landed, in the rain we drove to the gate and I wondered if this was really Ghana or if the pilot had decided to change at short notice and flew back to my hometown of Hamburg, where it was always raining. But as I stepped out of the airport building, the warm, sultry summer air that hit me left no room for doubt. I had arrived in Ghana. My home for the next 134 days.

I was immediately greeted with a big hug from Maria, my best friend in Ghana who was doing a fashion internship at Kokrobitey Institute. She picked me up along with Renée Neblett, the head of the Institute. In the dark we drove together to Kokrobite. The highway took us out of the capital, past all the stalls that now stood abandoned on the side of the road at night. The last stretch was on a bumpy road through the suburbs until we arrived at the small, touristy fishing village called Kokrobite around midnight. There I met Tom for the first time, who was also doing an internship at Arise and introduced me to everything for the next few days. I would have been lost without him.
The next morning I had the first chance to see my new home in daylight: a huge, beautifully designed area with basketball court, beach volleyball court and vegetable garden. In between were the buildings with the bedrooms. In one of these buildings, I shared the attic with Maria and Kukua, a girl who worked as a seamstress and cook for the institute. The attic was a simple, large room with various beds, a few dressers and two fans, but that's all we needed, as we were really only there to sleep. The fact that I had to share the room was not a problem for me, as I got along great with the two girls.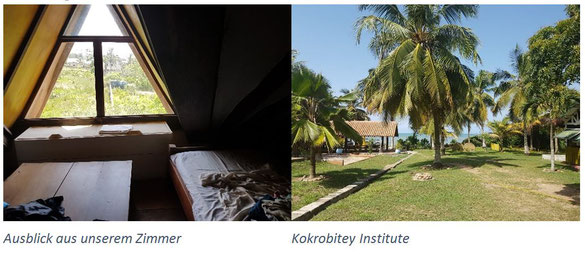 Then we went down for breakfast. The kitchen was right on the rocky beach and so every morning you had a fantastic view of the ocean. Breakfast and dinner was mostly prepared for us by Kukua, otherwise we also liked to cook ourselves or bought something from the street opposite. On that day we also went directly to the beach, which is only 5 minutes walk away. That's where you find all the hustle and bustle you're shielded from at the institute. Women offer everything from fish to to toothbrushes to colourful fabrics on their heads. Weekend visitors from Accra stroll around the water, young locals show off their acrobatics skills and a few FSJers try their hand at surfing at Mr. Bright.
But unfortunately, plastic waste is also an undisputed part of this scenery, whether in the sand or in the sea. Unfortunately, I could never get used to that. On Monday morning we went to school with Tom for the first time. Together we took a shared taxi about 7 minutes to the next village, Tuba, where the school is located. When I entered the classroom, I was already embraced by a whole horde of children. Tom introduced me as "Madame Jada" and that was my name for the next few months. The school is located in a building that is not yet finished. The classrooms were already equipped with tables, chairs and blackboards, which delighted me. Nevertheless, I realized that many things were still needed like a school gate, a timetable or a school bus.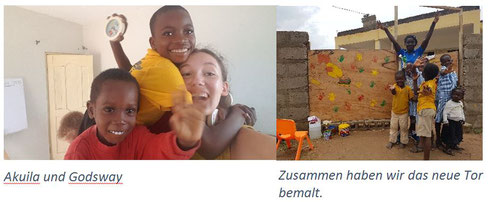 All this represented my task for the next time. In addition, of course, I was able to spend a lot of time with the super cute kids. The children are between two and ten years old. Therefore one could communicate with the small ones only by sign language, but with the large children then already correct conversations were possible. Every morning my heart would go out to them as they came running up to greet me. Can a working day get off to a better start?
At 12 o'clock after lunch I usually made my way back to the institute. There I was supposed to work the second half of the day for Renée, but since she was completely busy with her fashion line made of recycled material at the time, I always had the second half of the day free. In this newly won time I wrote Olaf and Stefanie the news or did organizational things for the school, for which I needed WLAN. At 5 pm it was officially closing time and Tom, Maria and I often ended the evening at our regular bar a few 100 meters from the institute or at McKenzie Beach. At the beginning of my stay I had made a list of things I wanted to accomplish until I had to go back home, including things like buying a school bus, making a lesson plan, organizing the dance workshop and the monthly budget, etcetera.
Since I am more into organisational things, I deliberately chose such tasks. I was very happy that I was given so much freedom and that I could concentrate on the things that were important to me and that I was comfortable with.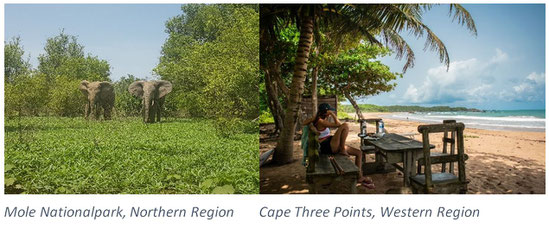 Therefore, I can recommend this internship to everyone, as you can choose your own focus. In all my projects, I was in close contact with Olaf, Stefanie and Abigail, a Ghanaian volunteer. I usually presented my idea to Olaf and Stefanie at the beginning, which we then discussed together. Especially the frequent Skype conversations with Olaf and Stefanie helped me a lot, because everything was new to me. After that, I spoke to Abigail on the phone. She knows how things work in Ghana and knows the prices. In this group of 4 there were always very good final results, with which we were all satisfied. And of course it was all the more beautiful to see how happy the children and the teachers were and how the school developed as a result. After a Montessori workshop that I had organised, for example, Madame Mary had a lot of new ideas and a lot of drive. It was really nice to watch.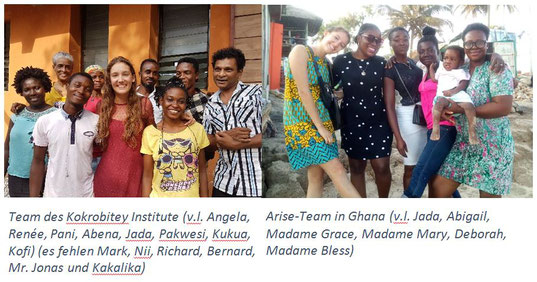 Putting a smile on the children's faces was easy. They were overjoyed when they were allowed to use the skipping ropes, which were donated by "goki. " Then they always shouted, "Look, Madame Jada!" and while at the beginning they could only jump over the rope a few times, at the end of my Ghanaian period they were able to jump on one leg for a long time: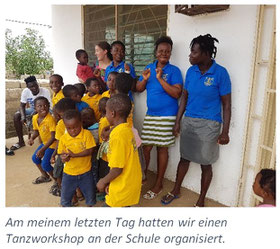 During my stay I also had the chance to explore the country. It started with a weekend trip with Mary and Tom to Cape Coast to explore the slave fortress and Kakum National Park. And there followed many more trips to the Wli Waterfalls in the Volta region or to the Cape Three Points over Easter. At the end of my stay, I had been given two weeks off so that I could travel all over Ghana again. During those 14 days, I took a ferry across Lake Volta, made it all the way north to the Hippo Sanctuary and Mole National Park to see elephants in the wild. An unforgettable experience! We went on to Kumasi, to the Sacred Lake Bosumtwi and finally to the surfing paradise Busua. It was an exciting experience and even though I traveled alone, I always felt safe. The last two weeks went by like a fly.
To celebrate one last time in Osu, to go swimming one last time, to have lunch one last time in school and then it was time to say goodbye. On my last Sunday I met with the three teachers and Abigail on the beach in Kokrobite and we had a bit of a party together. To say goodbye, they even gave me a few small things, which I was very happy about. A few short speeches were given, but my eyes did not remain dry. I'll miss them all very much! I was lucky that on my last weekend there was a Surf Festival in Kokrobite, which were the perfect final days. But it also made the farewell much harder. Especially the farewell to Kukua, Maria and the other workers in the institute was not easy for me.
And then I had to get in the car to go to the airport with Renée. And just like when I arrived, it was night again and my plane took off at 10pm, leaving Accra's sea of lights behind with increasing speed and heading towards home. Finally, I would like to thank everyone who made my stay so memorable, especially the Arise team and the Kokrobitey Institute team. It was a wonderful time that I would not want to miss. I wish the school only the best for the future and hope to come back very soon! THANK YOU!"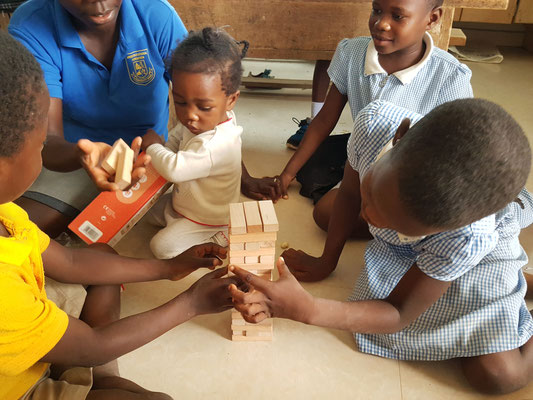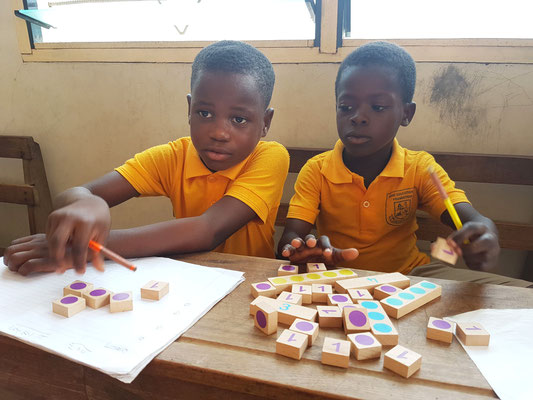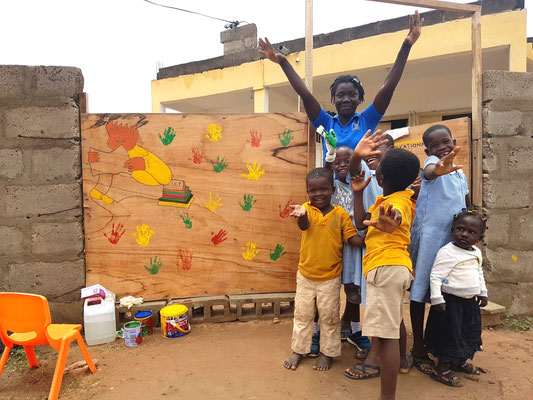 We are very happy about new energetic support on site! Jada arrived safe and sound in Ghana and with these pictures she lets us participate in the current school life and her first impressions during the internship. The children are thrilled with the new play & teaching materials, which enrich classroom and recreational activities tremendously. . . Arise says Thank You!
 "My trip to Ghana started at Frankfurt airport in mid-July. After a good 13-hour journey via Istanbul, I landed at the airport in Accra two hours late. I really hoped that Abigail, who was supposed to pick me up there, hadn't already given up hope that my plane would still land. After all, it was already 9:00 p. m. But that concern evaporated for a brief moment as I stepped out of the plane and was met by the humid, earthy-smoky air I was so familiar with. Wow! The memory came back immediately after three years. That's what Ghana smells like!
It's hard to describe the smell, but I immediately had an incredible feeling of happiness. Back at last! My hope was not in vain: after I had gone through the controls and collected my luggage, it was not long before Abigail came to me from the crowd of people waiting outside the airport building. An Uber taxi was organized after some of the usual price negotiations here and we drove for about an hour, out of the night hustle and bustle of the city, to Kokrobitey. In this small town on the coast is the institute where I can spend the next three weeks. What a wonderful facility this is, I was allowed to find out the next morning in daylight.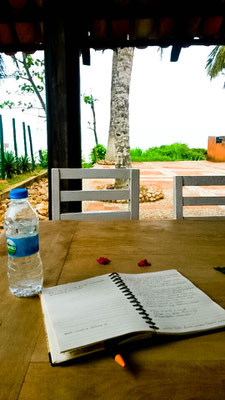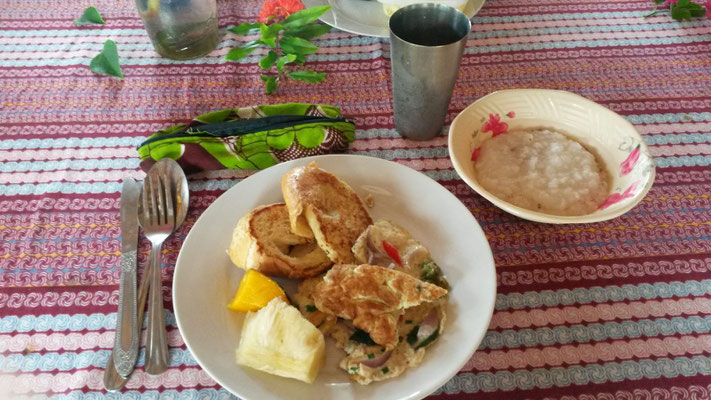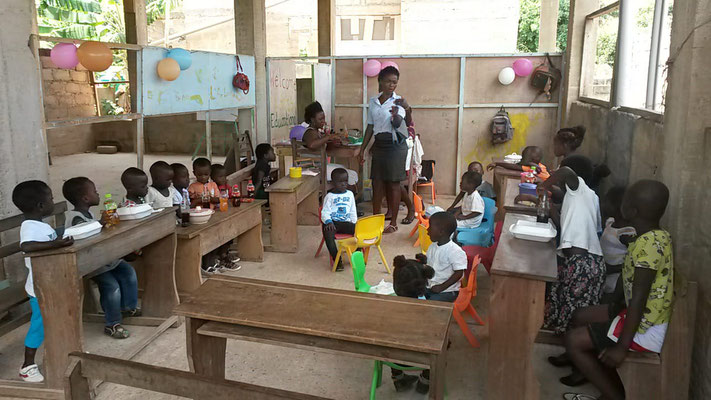 We were awakened in the morning by the sound of drums. Together with a group of students from America, we went to breakfast. Out of my room, past the other two buildings with the dormitories, I saw for the first time the great garden area where various vegetables are grown and then . . . the sea! Quasi directly at the sea a really wonderful breakfast was built. Fresh fruit, oatmeal, pancakes, even French toast was once available. After the refreshment we started the day together. For this we gathered on a meadow overlooking the sea. A short speech was held, a Ghanaian symbol was explained and those who liked were allowed to tell what they associated with this symbolism. The atmosphere was very positive and relaxed. The daily schedule was discussed and I was also allowed to get a little insight into the workshops that are offered here during the next three days.
But more important was a visit to the school of the Arise Foundation. Abigail picked me up to accompany me there. Unfortunately, I had to find out on site that everything was lacking! All those all-important purchases were gone. Stolen because there is no way to graduate from high school. The teachers nevertheless kept the school running. With only seven school desks, a few small plastic chairs, a table that serves as a teacher's desk for both classes, two large chairs and a battered blackboard, some school material and no curriculum. During my time I wanted to work on the latter with the teachers and in cooperation with the institute, but as it is often the case in Ghana: Things turn out differently than you think and often you have to shift down two gears.
But, that they work there with so much less, resp. than I expected, surprised me greatly. However, I already knew this from other Ghanaian schools and so I changed my plan: The school first needs furnishings and school supplies. To get this was now possible because the Arise e. V. had already rented a new building, which could be completed. Here, the things that are needed can be included. After the summer holidays, classes will be held in the new building.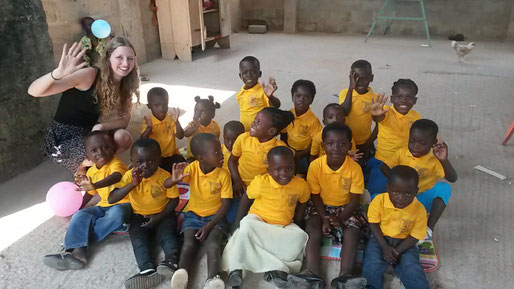 I had received a monetary donation for the children from a dear friend in advance. From this, with Abigail's support, I got two large sleeping mats so that the little ones no longer have to take their afternoon nap on the hard floor. In addition, we were able to organize school uniforms for each of the children from the donation in the limited time available. The donations from two German schools, which I was able to take with me in a suitcase and hand over one by one, provided some entertainment. In particular, the toys for the children (among others. a kaleidoscope and a 3D book) were scrutinised by the teachers before the children received them! They also have access to numerous arithmetic plates, arithmetic games and other teaching materials now that the holidays are over.
In addition, more desks and chairs, blackboards, school books, pens, a clock and some other things have to be organized now, so that the school lessons can be resumed reasonably in September after the holidays. For this purpose, however, it would be extremely important for the teachers to be able to deal with a curriculum and to receive support in developing a concept. This should definitely be done in cooperation with the institute, because the school is to be affiliated with it in the future. A great project idea for more interns :)
 When I was there, I was able to look at the property right next to the Institute's Design Center. The direct proximity offers enormous opportunities. On the one hand, the institute with its garden and the many plants is already used for small lessons with groups of students (I was allowed to take part in a funny plant science rally). On the other hand, the school would benefit from the ideas of the head of the institute Renee Neblett and her staff. They develop to Example school utensils made of recycled materials. In the long term, the school could make a big contribution to Kokrobitey, for example in terms of environmental awareness and resource use. Renee also places great emphasis on a critical way of thinking, which would undoubtedly motivate the students here. This is also an important aspect, considering how it is usually taught and taught in Ghana. Namely unfortunately mostly accompanied by fear of the stick and by memorizing without questioning anything. Perhaps in the long term, this school could even invite teachers from the local area to spend time as interns in order to make learning more future-oriented throughout the entire town. There are still many interesting tasks and I would love to travel to Ghana with even more time. I think the school project can be really great and with the help of the Kokrobitey Institute it could also bring many benefits to the people of Kokrobitey, such as a cleaner environment through environmental projects or non-violent education in schools through workshops and mentors.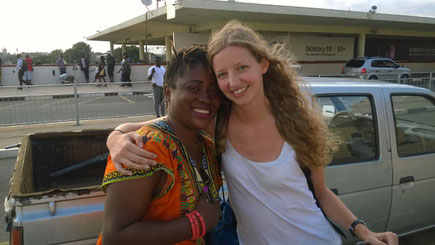 "When I dream alone, it's just a dream. When we dream together, it is the beginning of reality."
After this impressive journey, the desire remains with me to be able to fly back as soon as possible, the great projects of Arise e. V. s. and the Kokrobitey Institute, and the realization that the country once again touched me deeply with its people, its music and the dusty, warm air."
by Stephanie Franke
It was again a special and eventful time that we spent in Ghana in March. Thanks to the support from Germany, various projects could be organized and realized, which were very important to enable a better daily school life on the one hand and to bring the whole project forward on the other hand.
The donations were first of all used to cover the running costs such as rent, salaries and other costs (e. g. for filling the water tank). This is of course an essential aspect for the successful continuation of the school. Furthermore, various purchases were made. Among other things, the school now has a door and a small lockable storage facility so that items & materials can be stored more securely in the school. For example, the children have been given their own notebook & pen as a welcome gift, which they can now leave at school, and play materials and kitchen utensils can also be stored here. In addition, a school clock was purchased so that the daily school routine can be more regulated.
We have finally been able to set up a cooking area on site. Before there was hardly the possibility to cook for more than thirty children. Now there is a gas cylinder connected to two cooking areas as well as tables that serve as work surfaces. In addition, there are large pots, wash bowls & towels, dishes, cutting boards, etc.
 In addition to the kitchen, we have also purchased additional seating for the children, including two writing desks and various chairs, so that both the younger children and the older ones have a better learning atmosphere. In addition, it has been organised that the waste will be removed in the future. This could not be properly disposed of before. This was very important to us in order to strengthen a better environmental awareness among the children.
 Our helpers on the ground are not idle either. In the meantime the certificate has been handed over that our school is officially allowed to exist in Ghana. In addition, a visit to a high school was organised to present the project there and to gather further ideas. Thanks to Ronald, who has been involved in the project since day one, we have a new team member. Mr. Samuel is a pastor in Accra and founded his own school twelve years ago, where he enables children to attend school free of charge. We were also allowed to visit this school for one day, which made a lasting impression on us and gave rise to many concrete project ideas. Furthermore, it was important for us to get to know the parents of the students. This meeting was also very enriching and, despite language barriers, very constructive for the whole project.
 These are all great advances for our little school. Of course, there are still a lot of things to be done and a few things that are still missing and need to be improved. But we are very thankful for everything that has already been put together and it is really great, what has happened so far thanks to all of you and has already been realized. Hopefully it goes on like this!!!
    Something big always starts small. You have to give things time to grow. . .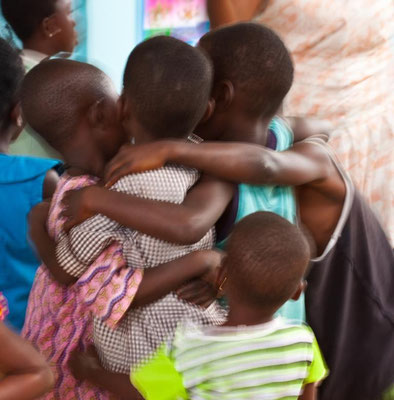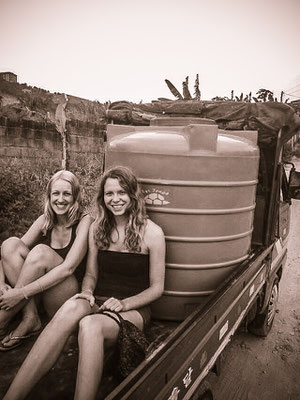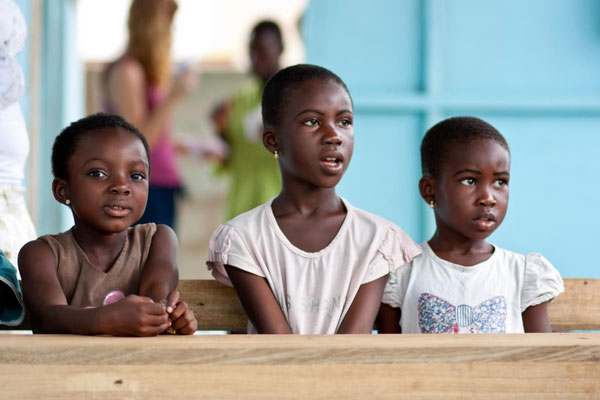 In July & August we were back in Ghana and very excited to see what we could expect there. To our great pleasure, things have developed positively on the ground and the school has been maintained and runs on noticeably more regular tracks than during the last visit.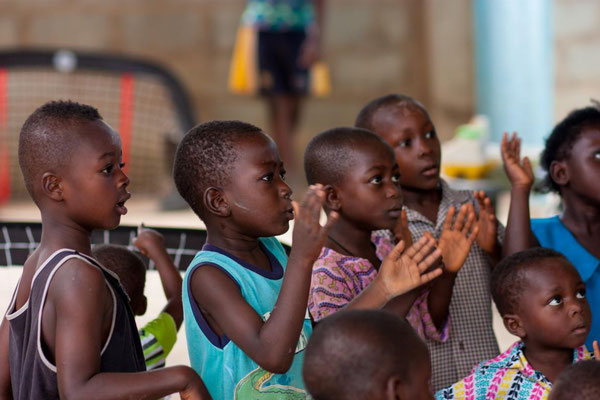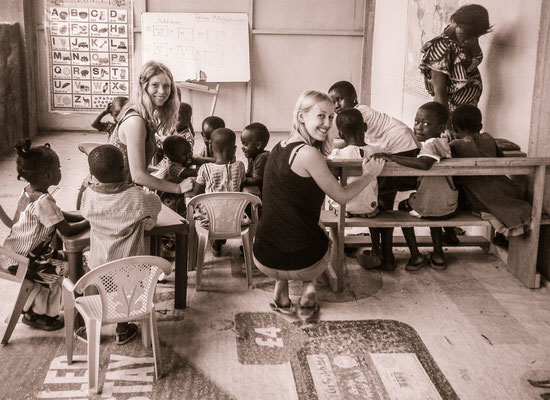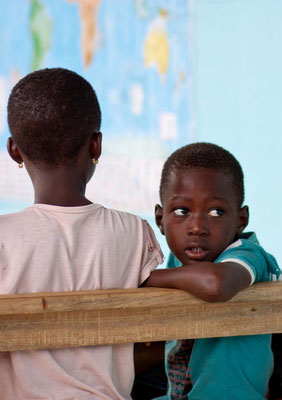 Thanks to the collected donations, it was possible to implement some projects: The walls were painted blue, decorated with educational placards and tables & chairs were produced by a local carpenter, where an additional 12 to 15 children can now be accommodated. In addition, an urgently needed water tank was purchased, installed and filled, so that the hygienic conditions are improved and drinking water is available, which is a very big step forward.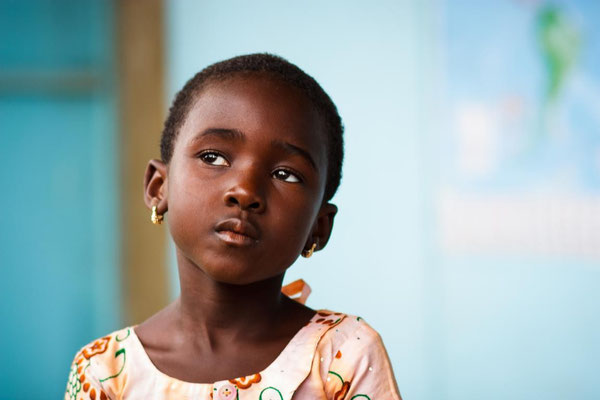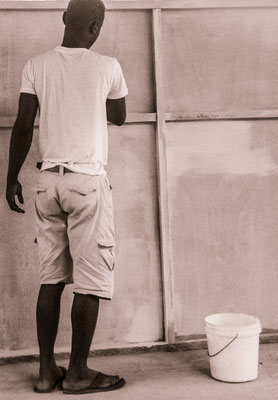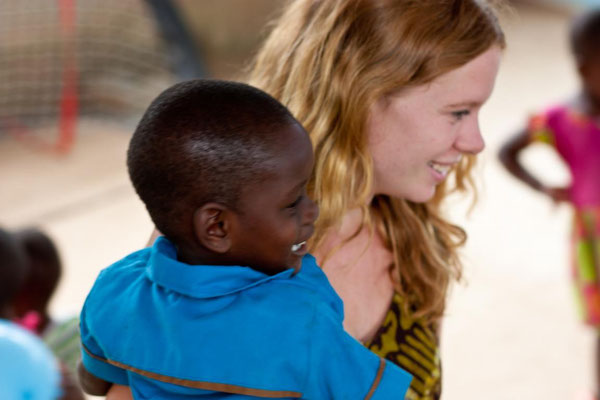 The school's registration process has also been started: the necessary forms have been filled out and are being processed by the Registrar Department in Accra.